Home
>
About Our School
>
Characteristics of Our School
「社会情報科学」とは?
データサイエンスで社会の抱える課題を解決
 社会情報科学部は、情報科学を軸として、高度化・複雑化が続く社会における課題を解決する教育と研究を行うことを目的とします。
 情報科学技術に関する確かな知識・技能、実践的な情報処理能力とデータ分析能力を身につけ、ビッグデータを分析・活用し、経済動向の予測、社会政策の立案、企業における経営戦略・マーケティング・生産性向上などの分野で貢献する人材を育成します。
社会情報科学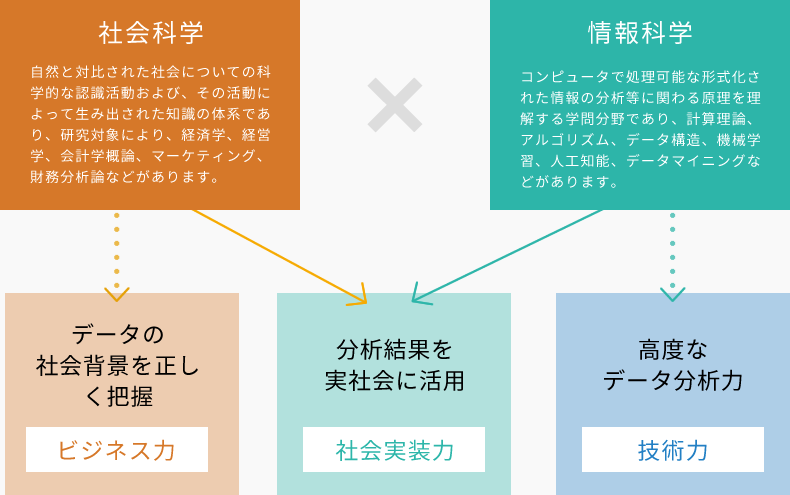 様々な分野を支えるデータ活用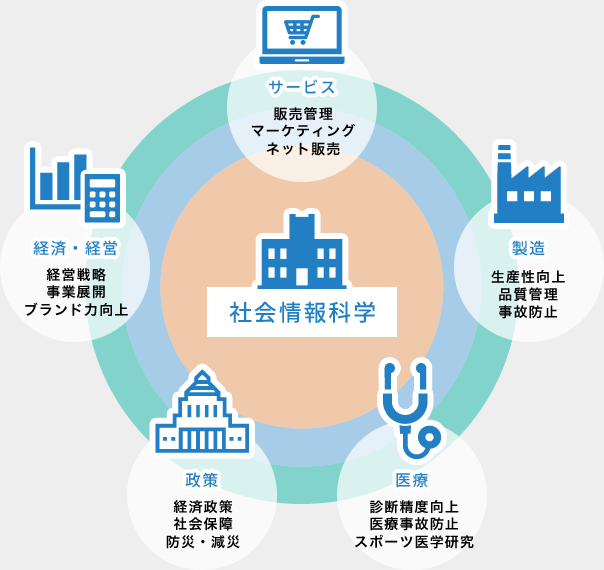 データサイエンスって何?
データサイエンスとは、社会にあふれているデータから「価値」を引き出す学問です。
ICT(情報通信技術)の進化した現代では、あらゆるビジネスや医療、製造、政策、行政においても、高度なデータ処理能力、データ分析力が必要となっています。
卒業後の活躍が期待される分野
金融、IT企業、製造業、マスコミ、総合商社、公務員、研究機関、シンクタンク、情報系大学院進学など様々な分野での活躍が期待されます。
社会情報科学のスキルが活用される職種には以下のようなものがあります。
ビジネス力

 企業情報ビッグデータを解析し、経済動向を予測するマーケティング担当
技術力

 ビッグデータを解析し、ビジネス戦略や課題解決などに活かすエンジニア
社会実装力

 データ分析技術を活用するコンサルタント
他にも製品開発担当、政策立案担当、経営イノベーション担当、大学・企業等研究者など
 経済産業省の推計では、ビッグデータやIoT、人工知能等のIT関連分野において先端的な技術・サービスの活用を担う人材(先端IT人材)が、2020年には約4.8万人不足すると試算されています。

 出典:IT人材の最新動向と将来推計に関する調査結果(2016年)
「社会情報科学部」へようこそ
神戸商科キャンパスを中心としたデータ分析ネットワーク
 スーパーコンピュータ「京」と連携した神戸情報科学キャンパス、大型放射光施設SPring-8と連携した播磨理学キャンパスなど、特色ある他キャンパスと共同し、兵庫県立大学ならではのデータ分析研究を計画しています。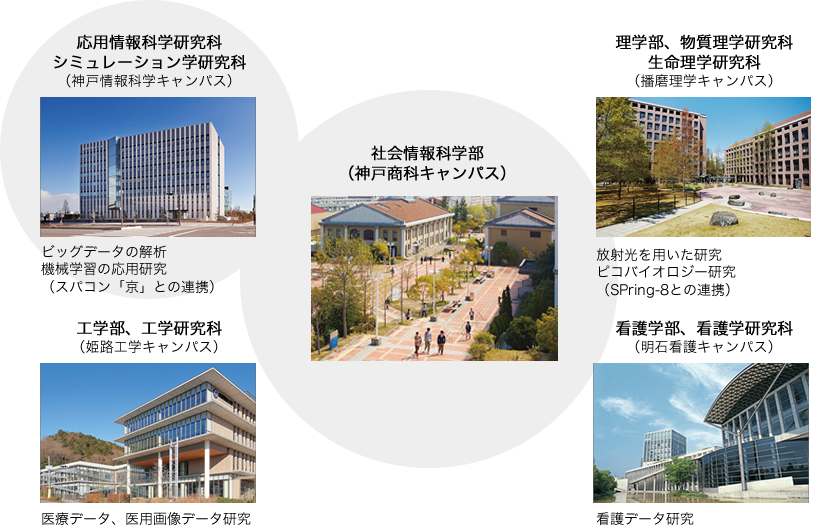 他大学との連携

スポーツ医学研究
(選手能力向上、ケガ予防など)
データサイエンス基礎研究
兵庫県・その他自治体との連携

公共データ分析
政策提言
県内外企業との連携

店舗売上データ分析
ネット広告分析
不動産データ分析
製造装置の改善
Education policy
Our graduates:
have acquired specialized skills in data analysis and can properly apply them to real-world situations;
have learned practical information processing techniques and can create analytical programs, etc. for tackling difficult-to-handle data and problems, and are technically minded with a focus on problem-solving; and
understand basic business models and social structure and can freely use information processing technology and data analysis technology, in order to contribute to problem-solving and value judgment.
Diploma policy (policy on conferment of degrees)
We award degrees to students who have acquired the following skills:
The specialist knowledge needed for information science and data analysis
The ability to view the problems of society and organizations objectively and think logically about how to solve those problems
The specialist knowledge and skills to handle and analyze data, and use it with an understanding of information ethics
Not just the ability to communicate in order to solve problems more effectively as a team, but showing strong leadership potential
Curriculum policy (policy on creation and implementation of curricula)
In the specialist courses (associated with a particular major) it is possible to study incrementally, with both basic and advanced level classes available.
Basic specialist courses shall provide a grounding in math, data analysis and information science, and endeavor to convey basic knowledge and skills by way of lectures and/or seminars. There shall also be survey (overview) courses in economics and management, so that students can gain an basic understanding of current societal economic trends and the management of businesses and organizations.
Advanced specialist courses shall be divided into those related to information science, data analysis, decision theory and sociology, and each include an introductory and advanced class, to increase the level of specialization in social information science.
Seminars shall be organized for each year and each semester, and inculcate the flexible thinking and problem-solving skills needed to tackle the various problems of society.
Credits for classes taken shall be awarded based on grading that takes into account, as appropriate to the content of the class, efforts made in examinations and assignments, level of contribution to the class, and so on. The grading criteria shall be made clear at the start of the course.
Admissions policy
Our ideal student
We want students who are interested in information technology and data analysis, and have a strong desire to use them in tackling the various problems of society and organizations. More specifically, we are looking for students who possess the basic academic capacity needed to gain the necessary knowledge and skills, students who possess a basic knowledge of and interest in our modern data-producing society, and students with a positive, proactive attitude to solving problems.
Admissions policy
Students should have acquired a good balance of knowledge in subjects studied in high school (secondary school)
Students should possess a basic understanding and knowledge needed to acquire specialized knowledge and skills
Students should be interested in information technology and data analysis, and have a strong desire to use them for society
Rules
University of Hyogo Rules (main university website)

Rules of the School of Social Information Science